If you're looking for a low-maintenance and beautiful solution for your lawn or sports field in Tacoma, Seattle, or any surrounding cities, then synthetic turf installation is an excellent choice. Synthetic turf of Puget Sound is a reputable company that specializes in synthetic turf installation. We offer our services to both residential and commercial clients, providing them with high-quality and long-lasting artificial grass.
Our process of synthetic turf installation starts with a free in-person consultation. We take the time to understand your needs and preferences before proceeding with the installation. you proceed forward, the install then begins with the preparation of the site. This includes the removal and disposal of any existing sod, gravel, or soils, as well as grading the soil to ensure proper drainage and a stable foundation for the synthetic turf. With our synthetic turf installation services, you can be sure that we will create your dream turf installation.
Once the site is prepared, a commercial-grade landscape fabric is installed to help prevent weeds from growing through the synthetic turf. This fabric acts as a barrier to prevent weed growth while allowing water to pass through to the soil. With your artificial turf installation, your new lawn will be free of weeds and will require minimal maintenance.
The next step is the installation of the turf subbase. A subbase of crushed rock is installed and compacted to provide a solid foundation for the artificial grass. The subbase is the foundation of the turf system and is essential for proper drainage and stability. The crushed rock is spread and compacted to create a stable foundation.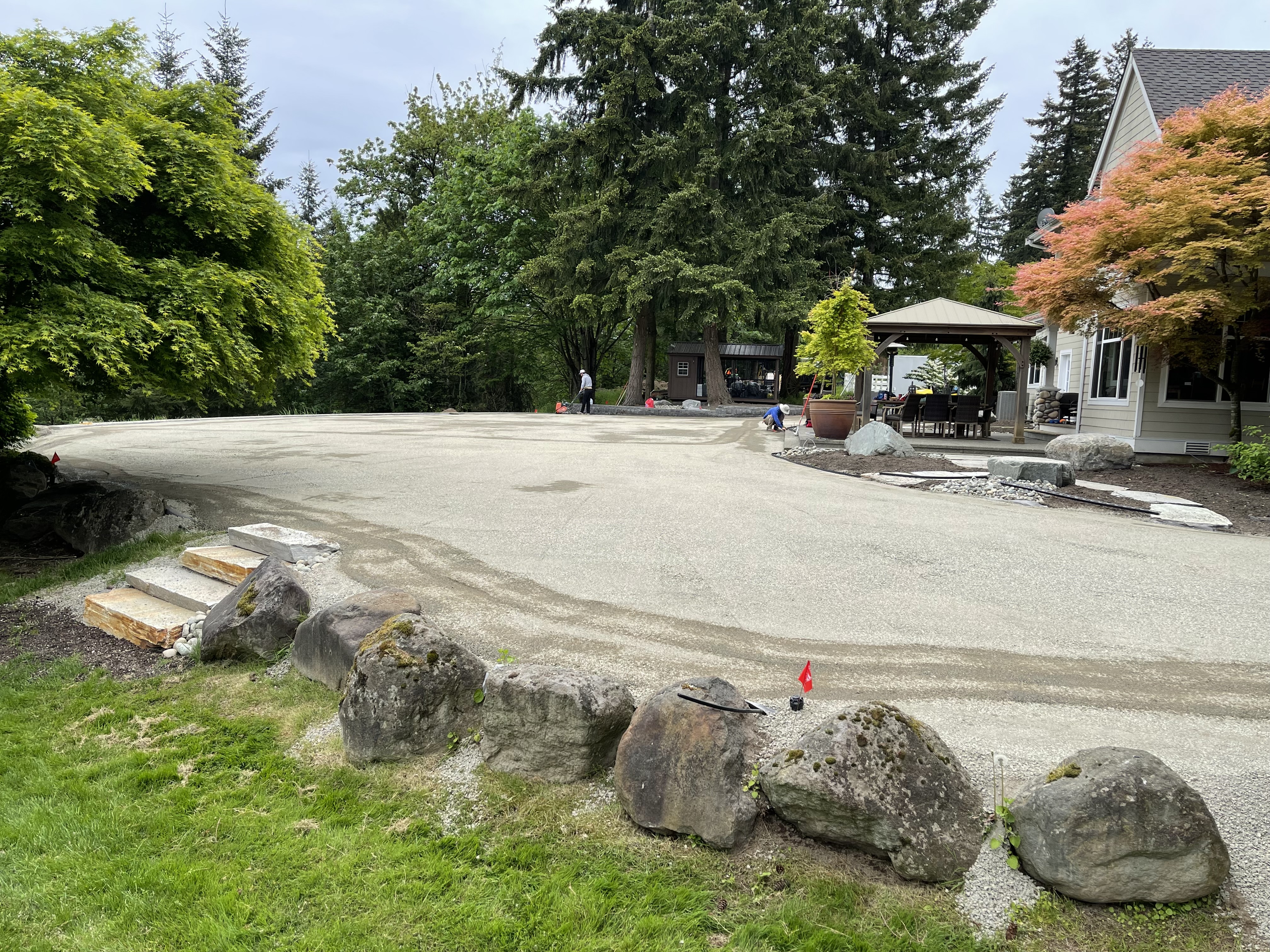 The next phase is the delivery and installation of the synthetic turf. The turf is carefully unrolled and stretched to ensure a seamless finish. Seams are glued using Turf Claw adhesive and the perimeter is custom cut and secured with galvanized spikes or nailer boards with staples depending on the application. This process ensures that the turf lays flat and does not move. By choosing Synthetic Turf of Puget Sound for your synthetic turf installation, you can ensure that your lawn will have a polished and seamless appearance.
Infill is then spread over the turf to protect the backing, add weight to the system, and keep the turf fibers upright. The infill that we choose to use is Envirofill which we have detailed in a separate blog post. Infill helps the synthetic turf to look and feel like natural grass. When you choose Synthetic Turf of Puget Sound for your synthetic turf installation, you can rest assured that your lawn will have a natural appearance and a comfortable feel underfoot.
The final step is the brushing and grooming of the new synthetic turf. The turf is carefully brushed and groomed to achieve a perfectly manicured "just mowed" finish. This step is important for maintaining the appearance of the turf and ensuring that the fibers stand up. By opting for synthetic turf installation from Synthetic Turf of Puget Sound, you can guarantee that your lawn will maintain a visually pleasing appearance all year round.
Once the installation is complete, our team thoroughly cleans up the job site, leaving it in a tidy and presentable condition. Synthetic turf installation is a complex process that requires the use of specialized equipment and the knowledge of experienced professionals.When you choose Synthetic Turf of Puget Sound for your synthetic turf installation, you can ensure that your artificial grass will be installed with precision and will provide years of hassle-free enjoyment. Contact us today to learn more about the process and get a quote for your project.